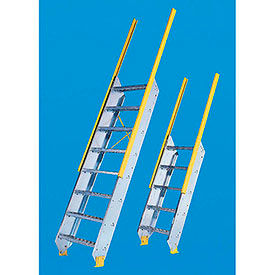 Equipto - Ships Stairs
Equipto Galvanized Ships Stairs Are Used For Ships, Commercial or Industrial Construction or Warehouses.

Equipto Ships Stairs are made of a sturdy galvanized steel for long lasting durability and cost one third the price of compatible stairs. These Stairs are prefabricated for quick and easy assembly. Non-skid perforated galvanized grating provide additional safety. Indoor or outdoor use; temporary or permanent. Available in 16 sizes with heights from 3'-8" 1o 11'-5" with two different tread widths of 24" and 30".