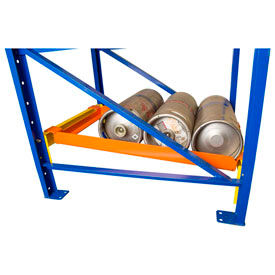 Bluff - Keg Flow Rack Frames
Bluff - Keg Flow Racks Provide Ergonomic Keg Storage And Access For Applications Including Distribution, Storage, Retail And More.

Bluff - keg flow racks are made of steel for long lasting durability and dependability. Units increase storage space, handling efficiency and cost effectiveness. Installs easily in existing pallet racking. Types include Fixed-Width Frame and Variable-Width Frame. Keg capacities are 3, 4, 6, 9 and 12. Package quantity is 1. Color is Orange. Dimensions vary per model.