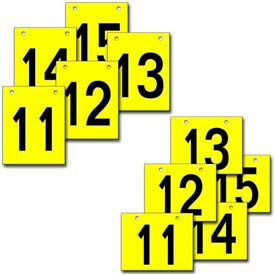 Hanging Aisle Signs (Two-Sided)
Hanging Aisle Sign, 2-Sided

Find aisles and locations quickly. Perfect for warehouses, shopping aisles, shipping bays, work areas, etc. Highly visible, custom signs available in single or double sided text and vertical or horizontal numbering. Choose from three different sizes available in white or yellow background and red or black numbers. Durable 1/8" thick duraboard construction. Includes corner holes for hanging from ceilings, cross bars or brackets. Complete set of five signs in ranges from (1-5), (6-10), (11-15), (16-20) and (21-25). Custom ranges, numbers and lettering are available upon special request.