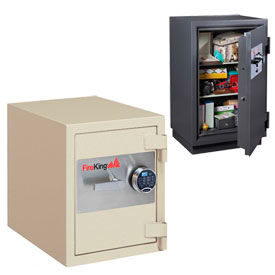 1/2-Hour Fire Rated Business & Home Safes
1/2-Hour Fire Rated Business and Home Safes Protect and Secure Valuables From Fire, Water and Theft For Applications Including Residential, Commercial, Storage, and more.

1/2-hour fire rated business and home safes prevent unauthorized access to money, jewelry, weapons, important documents, and more. Select models features up to 4 programmable combinations and lockout penalty for incorrect combination entry. Fire ratings are 30 Min. @ 1400°F, 30 Min. @ 1200°F, and 30 Min. @ 1700°F. Cubic feet capacities range from 1.0 1 to 4.7 depending on the model. Available color finishes are Black and White. Dimensions and additional specifications vary per model.