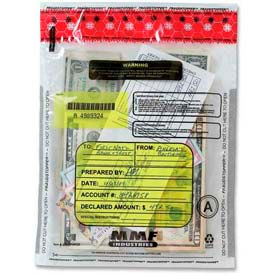 Money, Deposit & Security Bags
Money Totes/Bags Are Suitable For Transporting and Tracking Currency.

Money totes/bag money, deposit and security bags provide content protection and security. Organizes and sorts checks, cash and receipts. Sequentially numbered for tracking. Easy-to-write on surface. Meets Federal Reserve requirements. Vinyl wallet style bags with zipper and locking currency bags also available. Available in a variety of types and styles to meet money collection requirements. Colors are Black, Blue, Brown, Burgundy, Cerise, Green, Mustard, Orange, Pink, Purple, Red, Violet, White and Yellow. Dimensions vary per type. Package quantity is 1,000/Pack.