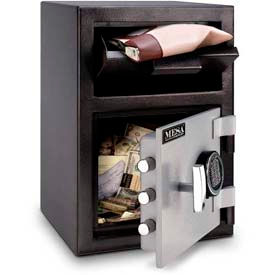 Depository Cash Drop Safes - Front Drop Hopper Load
Depository Cash Drop Safes With Front Drop Hopper Loads Provide Content Security For Restaurants, Cash Handling Businesses, and more.

Depository Cash Drop Safes with front drop hopper loads offer quick and secure deposit storage for valuables. Front load deposit door provides quick drop off access. Select units feature programmable electronic keypad. Cubic feet capacities range from 0.25 to 9.36 depending on the model. Dimensions and additional specifications vary per model.