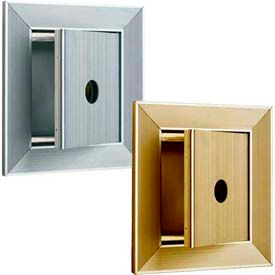 Florence Key Keepers
Florence Key Keepers Are Used For Added Security And Limited Access To Multi-Unit Buildings.

Florence Key Keepers are made of a heavy gage corrosion resistant aluminum construction for long lasting durability. Front door key safely stows inside allowing front door of multi-unit building to be locked for security and limited access. Color finishes are Anodized Aluminum and Gold Speck Powder Coat. Size is 6-1/4" W x 2-1/2" D x 6-3/4" H. 5 Year Warranty.