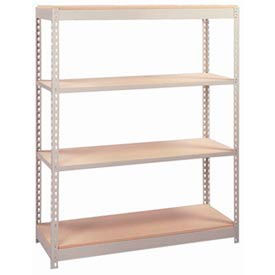 Lyon® Boltless Rivet Rack & Components
Lyon® Boltless Rivet Racks Components Are Used For Use In Warehouses, Storage Areas, Workshops And More.

Rivet racks are assembled by dropping beams into slots on uprights to create a sturdy, rigid structure with tool-free assembly. Starter uprights are 14-gauge Angle Posts for use as stand-alone sections or at the ends of two or more sections. Add-on uprights are 14-gauge T-Posts for use as intermediate posts in multiple sections rows. Easy assembly. Particle Board Decking is 5/8 thick and pre-cut to size for use with Lyon rivet racks. Wire Decking Panels are made using a 4-gauge wire with 2 x 4 mesh and provide air circulation and enhanced sprinkler system effectiveness. Racks and Decking are available in a variety of sizes. Available colors are Gray or Putty. Record Storage Boxes are corrugated fiber boxes featuring a die-cut handle to provide sturdy storage for letter or legal-size documents. Record Storage Box Support Rails allow organized storage of boxes. Tie Plates lock posts together to join two or more racks side-by-side. Wall Ties fastens backs of racks to the wall. Lifetime Limited Warranty.