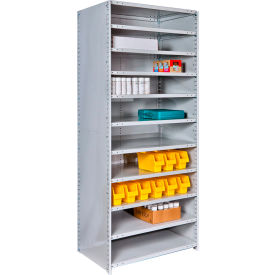 Hallowell Antimicrobial Closed Shelving
Hallowell Antimicrobial Closed Shelving Offers Versatile Hi-Tech Storage For Tool Cases, Bins, and Other Equipment.

Hallowell Antimicrobial Closed Shelving provides high-level protection against microbes such as bacteria, mold and mildew while maintaining solid support for heavy equipment. Each unit features a closed welded boxed beam front and back structure with lapped and welded corners, and triple flanged at sides. Shelving surface features antimicrobial powder-coat finish, which is ideal for schools and healthcare facilities. Available Shelf Quantities are 8 and 11. Available Shelf Capacities range from 350 – 500 lbs. depending on the model. Solid cold rolled steel base housing provides lasting durability support. Dimensions, steel gauges, and additional specifications vary per model.