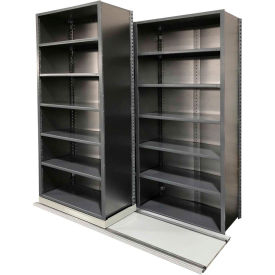 Lateral Mobile Aisle Shelving
Lateral Mobile Aisle Shelving Provide Convenient and Accessible Storage For Facilities With Alcoves or Limited Space.

Lateral mobile aisle shelving feature a high-density system that increases storage capacity while permitting access to all storage areas. Adaptable design and structure reduces need for aisles and permits multiple layers of storage. Most units can be operated alone or integrated with existing storage equipment. Available Colors are Black, Blue, Gray, and more. Shelf quantity, capacity, and dimensions vary per model.