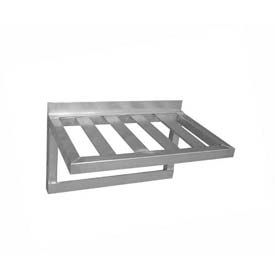 PVI - Aluminum Wall Shelving (Slotted Shelf)
Aluminum Slotted Shelf Wall Shelving Is Used For Restaurants And Other Commercial or Industrial Handling And Storage Applications.

Aluminum Slotted Shelf Wall Shelving is made of corrosion proof all aluminum construction for long lasting durability and dependability. T-Bar style shelves allow for air flow and dries pots and pans quickly. Heavy-duty tube frame with 2-1/8 inch wide T-Bar slides. Weight capacity is determined by wall anchors. Includes 3 Stainless Steel pot hooks. 20 inches deep. 15-3/4 inches in height. Available in 24, 36, 48 and 60 inch lengths.