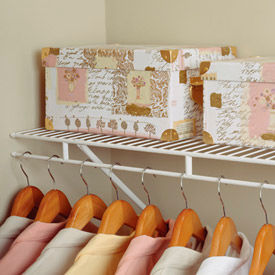 Closetmaid Shelf Kits
Closetmaid Shelf Kits are great for storing clothes, linens or other closet type items.

Shelves and rods hold up to 15 lbs per linear foot. Vinyl coated steel shelves are durable and long lasting. The open wire design allows sprinkler, air and light penetrition and minimizes dust accumulation. Kits come complete with all fixed mounting hardware including Brackets, Wall Anchors, Clips & Caps to install shelves for most applications.

Choose from "Shelf & Rod" style or "Superslide" style shelves in 48" or 96" lengths.

All shelves can be easily custom cut to size with a hack saw or bolt cutter.