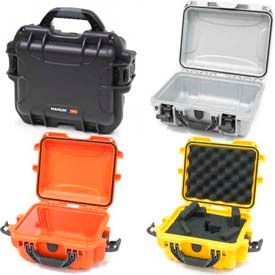 Waterpoof Instrument Cases
Waterproof Equipment and Instrument Cases Protect Sensitive Equipment From Extremely Harsh Environments.

Waterproof Equipment and Instrument Resin for long lasting durability. Inside case has padded compartmentalized protective divider to organize and protect valuable tools or sensitive equipment. Lightweight and waterproof case (IP67 rated) case. Soft grip foldable handle, padlockable and 100% stainless steel hardware ensure high performing protection and provide stackability. Gasket has conditional lifetime guarantee. Automatic pressure release valve is crushproof. Molded-In Bezel System for dustproof. Designed to be watertight. Powerclaw™ latching system allows integrated ID stay. Meets airline carry-on regulations and other certifications including: ATA 300 (Impact Test), ASTM D4169 (Falling Rain-Vibration-Drop Tests), Mil-STD-810F (Immersion Test), IP 67 (Ingress Protection Tests-Dust and Immersion). Available styles are Case, Case w/Foam or Case w/Padded Divider. Available colors are Black, Graphite, Silver, Orange, Yellow and Olive. Dimensions vary per model.