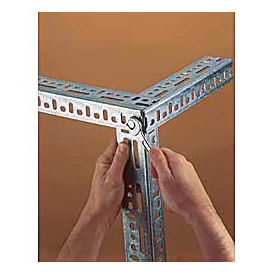 Lyon® 14 & 12 Gauge Galvanized Slotted Angle - 8', 10' & 12' Lengths
Lyon® Galvanized Slotted Angle Create Custom Structures Including Shelves, Protective Framing, Platforms And More.

Slotted angles are made using rugged, cold-rolled steel with heavy non-flaking galvanized finish. Oval, horizontal and vertical holes stamped on 3 centers allow precise adjustment of all angles. Slotted angle racks are available in Galvanized 14-Gauge Light Duty, 14-Gauge Medium Duty and 12-Gauge Heavy Duty in packs of 10 or 120. Slotted Angle Cutters allow slotted angle racks to be trimmed down to custom sizes. Gussets reinforce corners to ensure complete rigidity. Gussets are made using 14-gauge cold-rolled steel with a heavy galvanized finish. Stationary Casters and Swivel Casters are available. Extra Nuts And Bolts include hex head self-locking 5/16 diameter nuts and 3/4" long bolts. All accessories sold separately. Lifetime Limited Warranty.