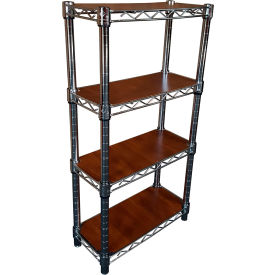 Shelf Liners - Wood Grain Poly-Vinyl
Wood Grain Poly-Vinyl Shelf Liners are Durable, Long Lasting, and Made in the USA.

Wood grain plastic shelf Liners allow you to transform your wire shelving into a beautiful piece of designer furniture. They are economical and create a beautiful surface on your shelving. They will keep smaller items from falling thru shelf wires. These liners are also Water & Chemical Resistant.

Available in Cherry & Teak finishes.