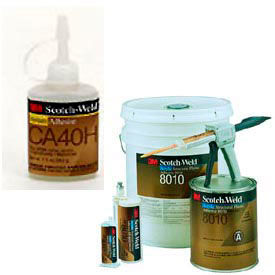 3M™ Scotch-Weld™ Adhesives
These 3M™ adhesives bond rubber, metal, plastics, masonry products and more.

3M™ Scotch Weld™ Instant Adhesives are one-part, high-strength, fast-setting adhesives that cure at room temperature. These instant adhesives are used for difficult-to-bond substrates such as EPDM rubber, aluminum and flexible vinyl.

Shock, corrosion and vibration resistant 3M™ Scotch-Weld™ Threadlockers are one-part anaerobic adhesives that cure and seal threaded assemblies to prevent loosening or leakage.

The 3M™ Structural Plastic Adhesive is a duo-pack acrylic adhesive that bonds plastics, including most grades of polypropylene and polyethylene.

3M™ Scotch Weld™ Epoxy Adhesive has a work-life of 4 minutes and a 20-minute handling strength .
The duo-pak epoxy adhesive has a 25-minute work life and a 2-½ hour handling strength.

Use Scotch-Weld™ EPX Plus II Applicator to dispense duo-pack (two component) adhesives and 3M™ Scotch-Weld™ plunger for the applicator.