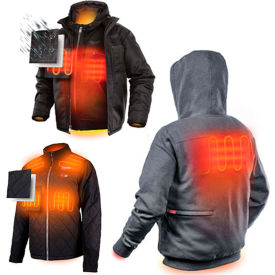 Heated Jackets & Gear
Heated Jackets & Gear Provide Warmth for Cold Jobsite Conditions, Sports, Hunting and other Outdoor Activities.

Heated Jackets & Gear are made of polyester and spandex for lasting durability. Multi-layered fabric actively warms body and stimulates blood circulation to provide protection against inclement weather. Jacket and hoodie features three sewn-in carbon fiber heating zones to distribute heat to core body areas. Hand warmer features thermal-knit fleece inner liner and upgraded carbon fiber heating elements. Includes three heat settings for efficient distribution of heat. Hoodie is washer and dryer safe. Available with and without battery and charger. Heated jacket has 12V DC plug adapter also available. Heated vest also available. Sizes range from L-3XL.