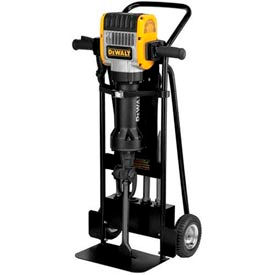 Dewalt Pavement Breakers
Dewalt Pavement Breakers Are Used For Jackhammering And Pavement Removal Applications.

Dewalt Pavement Breakers featuresteel construction for long-lasting durability. Breaker blade is made ofhigh carbon steel for increased dependability and efficiency. Pavement breakers exert a maximum of 61 ft-lbs of pressure for high-performance, heavy-duty use.Shocks Active Vibration Control technology reduces vibration by up to 70 percent for improved productivity and user comfort. Breakers feature a15 Amp motor for improved overload protection and high-power use.Rubber coated handles provide improved control and ergonomics.Soft start technology improves efficiency and reduces bit walking. Some models include a hand truck for easy mobility.Variable impact control dial provides versatile control and dependability. Dimensions and specs vary per model. Pavement breakers are coloredBlack/Yellow.