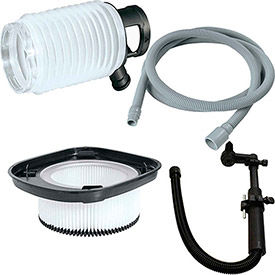 Dust Extractor Attachments/Accessories
Dust Extractor Attachments/Accessories Allow Surface Maintenance for Applications Including Construction, Masonry, Maintenance, and more.

Dust extractor attachments/accessories are work in conjunction with dust extractors for surface maintenance efficiency. Units reduce dust created from breaking and chipping in concrete and demolition environments. Various accessories include 4-1/2" - 5" Dust Extracting Surface Grinding Shroud, 5" Dust Extracting Cutting Guard, 5" Dust Extracting Tuck Point Guard, Dust Attachment, Dust Extraction Attachment, Dust Extracting Cup, HEPA Filter, Tool Cuff Adapter, and more. Types are Dust Extraction Accessory, Vacuum Filter, and more. Dimensions vary per model.