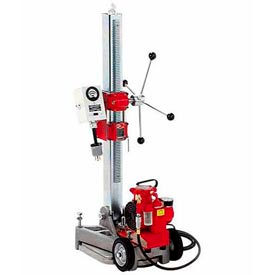 Coring Drill Stands & Accessories
Milwaukee® Coring Drill Stands And Accessories Are Great For Smooth And Even Enlargement Of Holes In A Variety Of Working Materials.

Milwaukee® Coring Drill Stands feature a cast aluminum base with four leveling screws and a 2-1/2" steel column for accuracy during core drilling applications. Small base ensures minimal space occupation. Drill stands with Vac Base feature Jackscrew for ceiling and backwall bracing. Drill stands without Vac Base feature a Dymo-Rig stand with wheels for ease of movement. Milwaukee® Coring Drill Stands are available in Small or Large sizes. Available accessories include Coring Rigs, Water Tanks, Vacuum Pumps and Vacuum Pads.