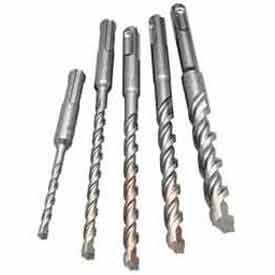 Hammer Drill & Rotary Hammer Bits
Hammer Drill and Rotary Hammer Bits Provide Drilling Efficiency for Applications Including Construction, Masonry, and more.

These bits are made of high quality materials for durability and strength. Units allow precision drilling through concrete, stone, masonry, and more. Chisel shaped tip quickly penetrates concrete for operation efficiency. Flutes improve dust removal while minimizing bending stresses. Flutes are designed for efficient debris removal from holes. Available styles include Adapter, Bit Holder, Hammer Drill Bit, Rotary Hammer Bit, SDS-MAX 2-Cutter, SDS-MAX 4-Cutter, Spline Bit 4-Cutter, and Spline to SDS-MAX Adapter. Types are 2-Cutter, 4-Cutter, Blue Granite, BlueGranite™ Turbo, Bulldog™, Bulldog™ Xtreme, Concrete, Hex Drive, and more. Shanks are 3-Flat, Flat, Hex, PowerGrip, Round, SDS-MAX, SDS-Plus, Spline, and more. Dimensions vary per model.