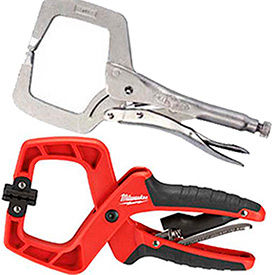 Locking C-Clamp Pliers
Locking C-Clamp Pliers Ensure Hold Stability For Construction, Maintenance, Repair, and Other Applications.
These locking C-clamp pliers have wide opening jaws to grip and support various sized tools and equipment. The pliers are made from high-grade, heat-treated alloy steel for added strength and durability. The guarded release trigger is easy to unlock and protects you from accidental release for safety. The non-slip grip surface improves handling control over parts and equipment for optimal comfort and performance. The turn screw is designed to adjust the plier pressure to increase or decrease the hold strength. Includes anti-pinch handles for added safety. Colors vary per model.
Wide jaws
Alloy steel construction
Guarded release trigger
Turn screw
Anti-pinch handles
Available styles are Comfort Grip, Fast Release, and Trigger Release