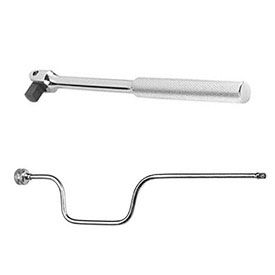 Non-Ratcheting Handles & Breaker Bars
Non-Ratcheting Handles & Breaker Bars Are Available In Several Sizes To Fit A Wide Variety Of Ratchet Sockets.

Ratchet handles are made from cold formed steel, alloy steel, chrome vanadium steel that guarantee strong grip and resistance to slip and durability. Triple chrome plated and polished to provide resistance from rust. Spark-resistant ratchet handles are made entirely of aluminum bronze or copper beryllium are also available for safe use in hazardous areas. All ratchet handles feature a ball locking type mechanism and are tempered and hardened for durability and torque strength.