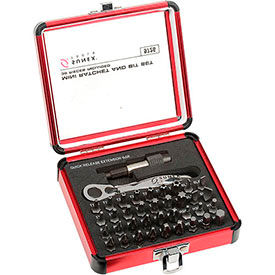 Miniature Ratchet Sets
Ratchet Sets Are A Great Alternative To Traditional Screwdrivers.

Ratchet set are made of hardened, tempered steel with nickel plating for long lasting durability. Offset heads provide easy odd-angle access to hardware. Ratcheting motion allows swift installation and removal of screws. Ratchet sets provide greater amounts of leverage than a regular screwdriver. Includes four bits: #1 and#2 Phillips, 1/4" and 3/8" Slotted. Available types are Mini, Offset, Professional and Standard. Number of pieces available are 5,18 and 38. Conforms to government specifications GGG-S-1408.