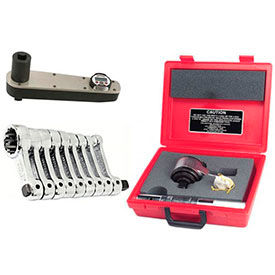 Torque Multipliers & Adapters
Torque Adapters And Multipliers Provide Additional Torque To Fasteners.

Torque Adapters And Multipliers are made of forged carbon steel for corrosion resistance and long lasting durability. Available in many styles and sizes to meet a variety of job requirements. Torque multiplier is an essential tool in industries where exceptionally high torque loads are required. Adapters measure 2 inch from center of adapter opening to center of square drive for easy torque calculations. Available in a variety of styles, and sizes. Color finish is Chrome.