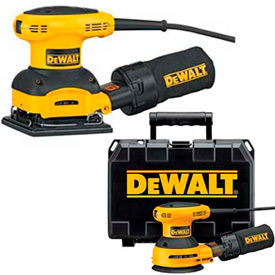 Random Orbital Sanders
Random Orbital Sanders Support Surface Finishing Applications for Woodworkers, General Contractors, and more.

These sanders are made with a counterbalanced design to eliminate vibration, reduce user fatigue and provide long lasting durability. Sanders provide maximum sanding speed for smooth finishes. Controllable pad speed minimizes gouging during start up. Dust collection bag, canister or system offered on some models for cleaner work environment. Anti-slip grip provides control during power sanding. Available types include 1/4 Sheet Palm Dustless, 1/2 Sheet Dustless, Compact, Cordless (18V) Dustless, Corner/Detail, Disc, Dustless, Paint Stripper, Right Angle Dustless and Sander/Polisher. RPM's range from 0-3700 to 13000-19000. Sizes include 3-1/8, 4-1/2, 5, 6, 7 and Variable. Dimensions vary per model.