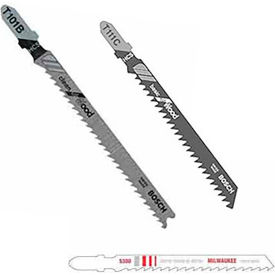 Universal & T-Shank Jigsaw Blades
Universal and T-Shank Jigsaw Blades Cleanly Cut Through A Variety Of Wood, Metal And Plastic Materials.

Universal and T-Shank Jigsaw Blades are made of high-carbon steel for lasting break resistance. Jigsaw tools feature a durable precision design for superior performance. Provides quick interchangeability for ease of use. Blades come in packs or as sets of blades for added versatility. Designed for precision based cutting for, wood, aluminum, non-ferrous metals, metals, and other materials depending on the model. TPI, size and set configurations vary per model.