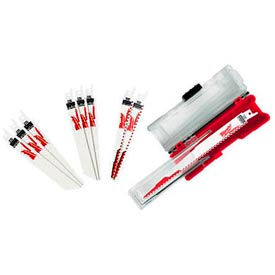 Milwaukee Sawzall Blades
Milwaukee Sawzall Blades Provide Tools For Construction And Cutting Applications.

Milwaukee Sawzall Blades are made of steel for long lasting durability. Bi-metal teeth provide sharper cutting edge on each tooth for a faster cutting blade. Features thicker, more rigid blade body to resist fracturing and bending. 8-Piece and 32-Piece saw sets also available. Available blade types include Carbide Grit, Diamond Grit, Drywall Access, Ductwork, Flush Cut, Ice Hardened™, Rough-In, The Torch™, and Thin Kerf. Available blade lengths are 2-1/2, 3-5/8, 4, 5, 6, 8, 9, and 12 inches. Package quantities are 5, 25, 50 and 100.