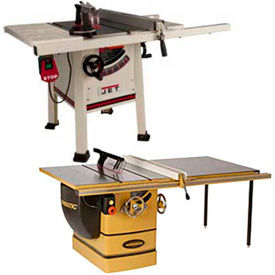 Stationary Table Saws
Stationary Table Saws Are Designed For Safe And Secure Operation In A Variety Of Woodworking Applications.

Stationary Table Saws feature cast iron cabinets for long lasting durability and polished steel tables for smoother cuts. Quick release riving knife greatly reduces binding and kickback risk. Shrouded blade increases dust collection to reduce mess. Blade diameter is 10", 12" or 14". Rip capacity is 30", 50" or 52". Motors available are 1-3/4, 3, 5 and 7-1/2 HP with Voltages of 115/230, 230 or 230/460. Table size varies per model. Rail Sets provide added strength and stability. Fences lock easily to tables for ease of use. Includes adjustable locking handle.