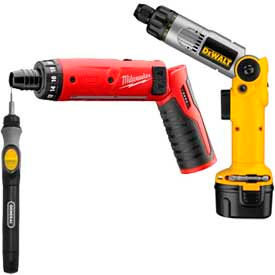 Cordless Power Screwdrivers
Cordless Power Screwdrivers Drive Fasteners at High Speeds for a Variety of Construction, Repair, and Automotive Applications.

These screwdrivers are available in a variety of sizes, torques and speeds. Cordless screwdrivers are battery powered to allow freedom of movement and positioning. Available cordless power screwdriver types are Standard, Precision, Gyroscopic, Framing, Drywall, Autofeed and Auto-Stop. Select models are available with LED light. Cordless Power Screwdrivers are available as a bare tool or as part of a kit. Voltages range from 2.4V up to 18V. Cordless power screwdrivers are available from several trusted brand names.