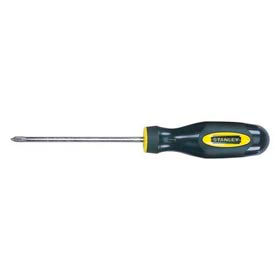 Stanley Torx Tip Screwdrivers
Stanley® Torx Tip Screwdrivers Are Used For Personal Or Professional Fastening Applications.

Stanley® Torx Tip Screwdrivers are made with heat treated alloy steel shanks for long lasting durability and dependability. Standard Fluted types have ergonomic, quad-lobular (four-sided) handles with slip-resistant, textured grip for comfort and extra torque. FatMax® types have tri-lobular (three-sided) handles that provide more torque than traditional-style screwdrivers for less effort. Shot blasted black oxide tips provide a more precise fit and a textured surface for increased grip and less cam-out when in use. 3/16 inch diameter blade screwdrivers are available in 3-1/4, 3 and 4 inch blade lengths and 7. 7-1/4, 7-1/2 8-3/4 and 9 inch overall lengths.