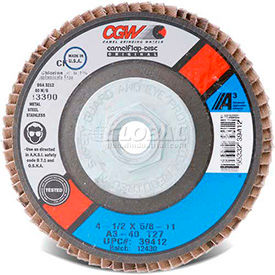 Flap Discs - 4" or less
Flap Discs - 4" or less are Recommended for Aggressive and Heavy Duty Deburring, Deflashing, Rust Removal, and Snagging Applications.

Flap Discs - 4" or less are excellent on carbon and stainless steel heavy duty work. Premium materials are Aluminum Oxide, Seeded Gel Ceramic, Silicon Carbide, and Zirconia. Discs offer maximum cutting capacity, strong edge stability, cool cutting with light pressure and long life for Non-Ferrous Metals, Plastics, and Woods. Grades are Medium, Coarse, Super Fine, Extra Coarse, and Very Fine. Grits range from 24-600. Diameters are 2" and 4". Center hole diameters are 3/8-24" and 5/8".

Max RPMs are 15300 and 30000.