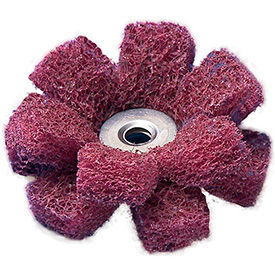 Satin Finishing Stars
Satin Finishing Stars are used for Light Duty Removal of Rust and Paint and Provide Polish for Tubes & Cylindrical Parts.

Satin Finishing Stars are made of aluminum oxide with advanced resin tech­nology in conjunction with a reinforced fibrous mesh for a strong, longest lasting, conformable satin tool. Fibrous mesh resists snagging and tearing and open construction runs cool and resists loading. Available grades are Medium. Fine, and Very Fine. Star diameters are 1-1/2", 2" and 3". Center hole diameter is 1/4-20. Max RPMs are 8000 and 12000. Eyelet attachment.