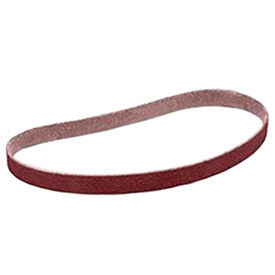 Sanding Belts – Aluminum Oxide - Coarse
Sanding Belts - Coarse Aluminum Oxide Provide Standard Finishing, Cleaning, Deburring, Blending, and Other Various Application Processes For Construction, Carpentry, and Metalwork.

Sanding belts allow ergonomic operation of a variety of surfaces without risk of work piece damage. Units fit most industrial belt sanders. Sanding belts are made of high quality materials for lasting durability. Neutral color finish on select units provide industrial look and feel. Grades range from Coarse to Extra Coarse. Available belt length ranges from 12" to 264" depending on the model. Additional specifications vary per model.