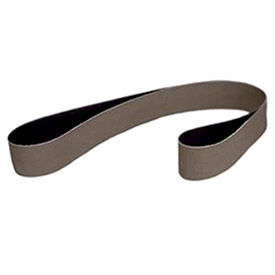 Sanding Belts – Aluminum Oxide - Fine
Sanding Belts - Fine Aluminum Oxide Are Designed For Grinding Applications in Construction, Carpentry, Metalwork, and more.

Sanding belts - fine aluminum oxide are designed for wood, steel, and other alloys for standard dimensioning, deburring, and blending. Grain structure of unit provides continuous cutting for aggressive, dry sanding applications. Abrasive is resin bonded to maintain durability under high heat and pressure. High quality constructed materials offer lasting dependability. Units fit most industrial belt sanders. Grades range from Extra Fine to Very Fine. Additional specifications vary per model.