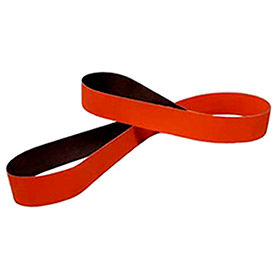 Sanding Belts – Ceramic - Fine
Sanding Belts - Fine Ceramic Are Designed For Wet or Dry Polishing Applications Including Construction, Carpentry, and Metalwork.

Sanding belts - fine ceramic are used for steel and other alloys for dimensioning, blending, and other cutting functions. Crystalline structure provides continuous cutting ensuring work-piece speed and efficiency. Grinding aid reduces running temperatures for heat sensitive alloys. Abrasive is resin bonded to maintain durability under high heat and pressure. Units maintain durability in high pressure production environments and fit most industrial belt sanders. Bright color finish on select units provides high visibility. Additional specifications vary per model.