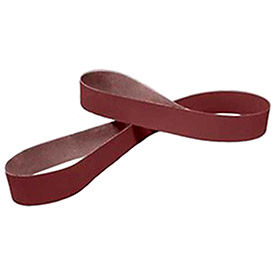 Sanding Belts – Aluminum Oxide - Medium
Sanding Belts – Aluminum Oxide - Very Fine Accommodate Material Polishing In Construction, Carpentry, Metalwork, and more.

Sanding belts – aluminum oxide - very fine are designed to traditionally shape and cut away grit material. Units feature microreplication technology, which provide consistent cut and finishing. Abrasive is coated on a rayon backing for durability under heat and pressure. Select units are neutrally colored for an industrial look and feel. Units fit most industrial belt sanders. Belt length ranges from 12" to 168". Additional specifications vary per model.