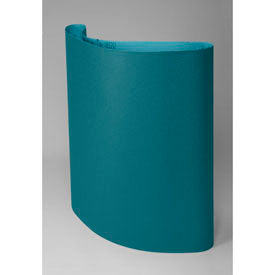 Sanding Belts - Wide Finishing
Sanding Belts - Wide Finishing Are Designed For Wide Material Polishing Applications In Construction, Commercial, and Industrial Work.

Sanding belts accommodate the shaping and smoothing of wood and metal in addition to stock removal. Abrasive particles are resin-bonded to a cotton cloth backing for both heat/pressure resistance and a continuous cutting life. Select models feature a washable backing is suitable for high production environments to remove soft wood resin or pitch buildup. Material types include Alumina Zirconia, Aluminum Oxide, and more. Belt length ranges from 48" to 103". Additional specifications vary per model.