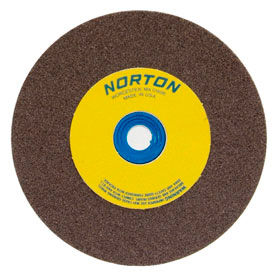 Bench & Pedestal Grinding Wheels
Bench and Pedestal Grinding Wheels Provide Removal of Burrs on Steel Parts, Tools, Equipment, and more.

These grinding wheels can also sharpen high speed cutting tools in construction applications with bench and pedestal grinders. Abrasive materials are Aluminum Oxide, Ceramic Aluminum Oxide, Silicon Oxide and White Aluminum Oxide. Grades are Coarse, Extra Coarse, Fine, Medium, and Very Fine. Grits range from 24 - 150. Center hole diameters range from 1" - 5". Max RPMs vary per style.