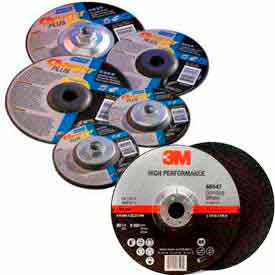 Depressed Center Wheels
Depressed Center Wheels Provide Economical Solutions For Steel and Alloys In Need of General Purpose Grinding and Cutting Applications.

Depressed center wheels offer rigid bonding for hefty weld removal and other heavy-duty grinding processes. Flexible and depressed center offers enhanced flexibility and a contoured fit, providing a smoother finish. Premium constructed materials provide lasting durability. Available material types include Aluminum Oxide, Blended, Ceramic Grain, and more. Wheel diameter ranges from 3" to 9-1/2". Additional specifications vary per model.