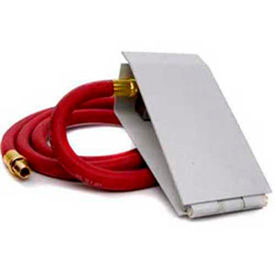 Sandblasting & Tumbling Accessories
Sandblasting and Tumbling Accessories Provide Additional Finishing Equipment For Maintenance, Industrial, and Commercial Applications.
Sandblasting and tumbling accessories are designed to add to or customize existing equipment. Canvas hood offers complete head coverage. Lightweight suits are nylon and cotton woven to preserve cooling and reduce work fatigue. Window underlay film helps protect viewing window from ricochets and damage. Blast gloves are leather or rubber woven for lasting hand protection and gripping capability. Abrasive strainer separates debris from media while preventing clogged nozzles from intrusive coatings. Other accessories are available.
Hood with lens
Lightweight suit
Blast gloves
Window underlay film
Abrasive strainer
Available types are Abrasive Recovery Bag, Abrasive Strainer, Adapter, Air Jet, Air Jet Washer, Blast Gloves, Blast Suit, and more