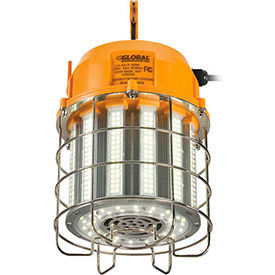 Temporary Area Work Lights
Temporary Area Work Lights Provide Temporary Lighting For Industrial, Commercial, and Other Related Applications.

These lights grant you 360° of high visibility, energy efficient illumination for low light areas such as basements, maintenance facilities, and more. The wire safety cage ensures bulb protection against accidental impact, sparking, and other hazards. Most models feature a steel construction for added strength and durability. Includes steel safety hooks for fast installation. Available styles include Magnetic LED Work Light, Replacement Lamp, and Temporary Area Work Light. Watts range from 60 to 150. Lumens range from 6000 to 16500. Cord lengths are 3', 5', and 10'.