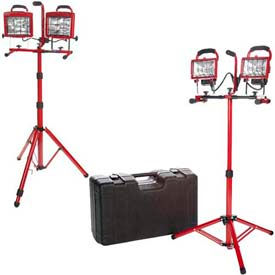 Bayco® Halogen Work Lights
Bayco® Halogen Work Lights Provide High Safety Illumination For a Variety of Environments Including Industrial, Construction, Roadwork, and more.

These work lights are made from a variety of materials for lasting durability in harsh working and weather conditions. The units include a safety grill as an added layer of protection against impact and other elements. Available styles include Halogen Light, Head Convertible Tripod Tower, Heavy Duty Tower Light, Portable Halogen Work Light, and more. Cord lengths are 3', 5', 6', and 10'. Cord gauges are 16/3 and 18/3. Color options are Red and Yellow. Package quantity is 1.