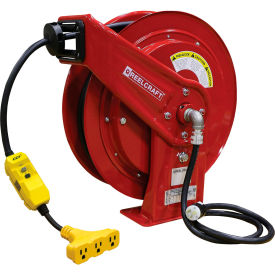 Reelcraft™ HD Power Cord Reels- 75' & 100'
Reelcraft™ HD Spring Retractable Cord Reels Provide Cord Storage and Organization for Applications Including Industrial, Commercial, Construction, and more.

Reelcraft™ HD spring retractable cord reels are made of steel for strength and dependability. Guide arm and gauge base include ribs and gussets for maximum strength. Torsion style latch spring ensures durability over traditional springs. Declutching arbor prevents spring damage via reverse winding. Powder coated finish provides corrosion resistance. Hose lengths are 75' and 100'. Outlet quantities are 1, 2, 3, and 4. Amps are 15, 16, and 20. Color finish is Red. Most models are UL listed. Additional specifications vary per model.