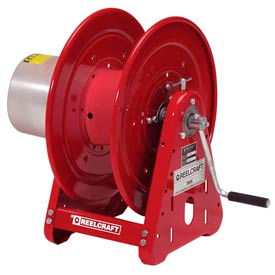 Reelcraft™ Heavy Duty Cord And Cable Reels
Reelcraft™ Heavy Duty Cord and Cable Reels Are Suitable For Long Lengths Or Cord In Indoor Industrial Applications.

Reelcraft™ Heavy Duty Cord and Cable Reels allow convenient accessibility and storage for cables in need of organized reel stations. Each unit features heavy gauge steel and are assembled with vibration-proof self-locking fasteners to ensure assembly integrity. Heavy-duty reinforced steel stamped guide arm. Permanently lubricated reels for long life. Cord/Cable Storage Reels are designed for storage, unwinding and winding of disconnected cords. Most models feature Hand crank operation. Select models are reel only. Live Power Cord Reels feature collector rings that allow the reel to wind or unwind the cord with live current without twisting the wires. Reels are suitable for indoor non-weather-tight applications only. Dimensions and additional specifications vary per model.