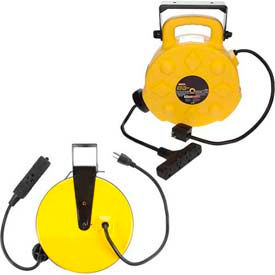 Bayco® Retractable Cord Reels
Bayco® Retractable Cord Reels Provide Organization For A Variety Of Work Environments.

Bayco® Retractable Cord Reels are made from a variety of materials for long lasting durability. Available in a variety of types and styles to meet job requirements. Impact resistant polypropylene hand wind reels deliver power where needed and keeping cords protected when not in use. Provide polarized plugs with grounded receptacles and circuit breakers. Cord lengths are 6 ft., 20 ft., 25 ft., 30 ft., 40 ft. and 50 ft.. Cord gauges are 12/3, 14/3, 16/3 and 18/2. Colors are Black, Yellow and Yellow/Black. Package quantities are 1, 2, 4 and 6.