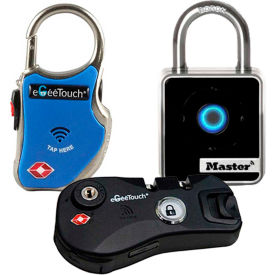 Bluetooth & NFC Smart Padlocks & Luggage Locks
Bluetooth and NFC Smart Padlocks and Luggage Locks Provide Traveler Security ror Airports, Hotels, Automobiles, and more.

Bluetooth and NFC smart padlocks and luggage locks are made of high quality materials for durability. Locks feature dual proximity access and vicinity-tracking technologies to ensure content safety and security. Unlocking capabilities include Bluetooth-enabled smartphones, NFC fobs, cards, stickers, and more. TSA-accepted devices are integrated with proprietary authentication protocols capable of generating over 100 million user-defined encrypted IDs. Audit trails and historical access features alert user of unauthorized movement. App notifies user of low battery. Available types include General Purpose Smart Padlock, TSA Approved Smart Padlock, and TSA Approved Smart Zipper Lock. Lock types are Bluetooth Lock and NFC Lock. Colors are Black, Blue, and Yellow. Dimensions vary per model.