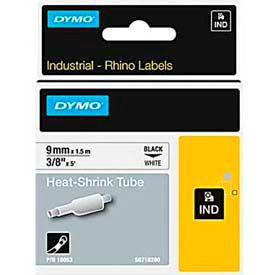 Labels for RHINO Printers
Labels For RHINO Industrial Label Printers Are Used For Labeling Panels, Blocks, Plates, Shelves, Bins, Beams And More.

Labels For RHINO Industrial Label Printers are made for long lasting durability and dependability. Flexible Nylon Labels conform and stick tightly to wires, cables or any other curved or bumpy surface. Tear-proof material resists damage when pulled through tight spaces or conduits. Heat Shrink Tubes provide maximum cable adhesion and premium cable finish. Shrink 67% for tight fit on wires and cables. Print directly on tubes with any DYMO Industrial labeling tool. Permanent Polyester Labels stick firmly to plate or panel surface and have a professional, polished surface finish. Vinyl Tape is used for labeling outdoors or in harsh conditions. Offers additional heat, moisture and chemical resistance. Non-Adhesive Tags and White Vinyl Self-Laminating Tape also available. Choose from a wide selection of 1/4, 3/8, 1/2, 3/4 and 1 inch widths, 5, 11-1/2 and 18 foot lengths and Black, Blue, Brown, Clear, Gray, Green, Metalized, Orange, Purple, Red, White, or Yellow colors.