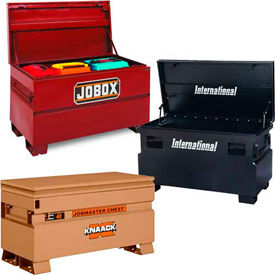 Heavy Duty Job Site Storage Boxes
Heavy-Duty Job Site Storage Boxes Are Designed to Store and Protect Valuable Tools and Equipment for Construction Sites, Warehouses, Factories, and more.

These boxes are manufactured from heavy gauge steel for reinforced strength and durability in harsh working conditions. The hinged lids allow easy box access and full content accessibility for user convenience. The powder-coat finish provides corrosion resistance for outdoor or moist conditions. Includes recessed lock protectors for maximum security against lock drilling and cutting. Units include fork pockets for ergonomic mobility and transport. Dimensions and color finishes vary per model.