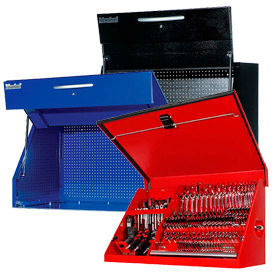 Portable Workstations, Canopies & Hutches
Canopies And Hutches Are Used For Applications Including Automotive, Maintenance, DIY, And More.

Canopies and hutches are made of steel and aluminum for long lasting durability and dependability. Units provide convenient mobile tool organization for vehicles, garages, workshops, and more. Textured finish and weather stripping prevents corrosion and moisture entry for application and location versatility. Gas spring lid raises when unlatched and locks for unit stability. Includes power tool rack with built-in power strip, wrench rack, screwdriver holders, and more. Features socket pegs, ratchet drivers, extensions slots, and more. Types are Hutch and Workstation. Colors are Black and Red. Dimensions vary per model.